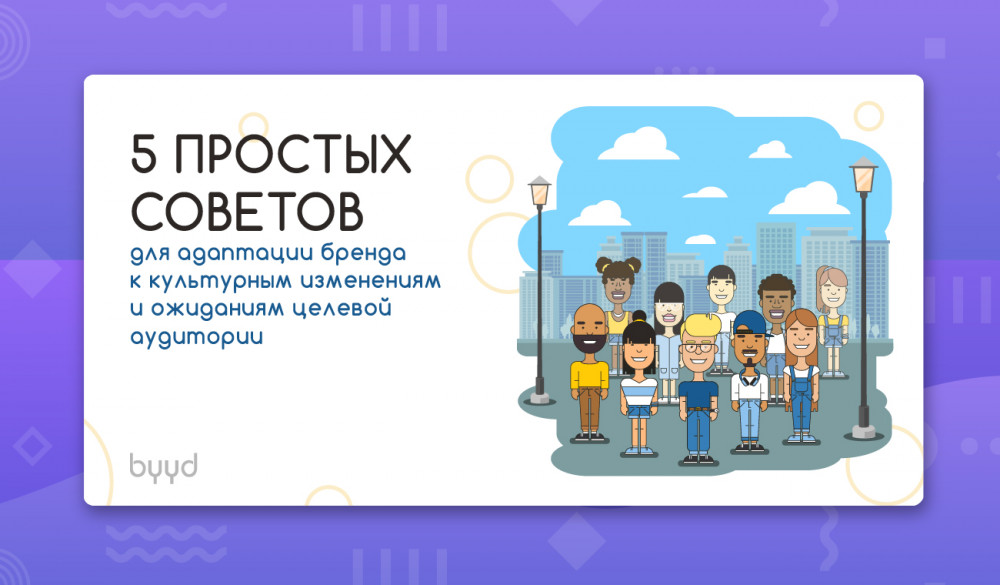 Cultural changes that are taking place on a global scale affect not only social life, but also marketing, brand strategies. This is especially noticeable in the West – large companies respond to social trends, support racial and gender diversity. The pandemic also had a significant impact, which can also be considered a cultural change – it has changed everyday life so much that brands that work with and for people simply cannot help but react to these shifts.
Western experts quite often bring up the topic of how cultural change is reflected in marketing. And how brands should respond to them in order to support their users, build a loyal audience, and maintain relationships with existing customers. The topic is important and relevant. We decided to share the advice of Western magazines WordStream and AW360 on this topic.
1. Advocate for inclusion
One of the most important approaches to reflecting cultural change that can be observed today is the adoption of an inclusive approach. Simply put, it is a reflection of different gender groups, racial diversity, and respect for the rights of different groups of people in brand policies, advertising campaigns, marketing strategies. Global brands follow this path and succeed. Such a policy not only increases reach, but also helps to increase audience loyalty. Not to mention that this is just right and important in the modern world.
A prime example that WordStream cited is the Mac cosmetics brand WhatsYourThing, which was launched in 2018. But it is still relevant today! Watch the video.
2. Practice social listening
One of the most serious cultural shifts that has affected every (!) Person is the COVID-19 pandemic. Its consequences, in fact, we have yet to assess. But, corny, it won't be the same as before. And the new reality requires brands to fully understand the new needs of their target audience.
The good news is that a huge number of users have gone online. The Internet audience was already large-scale, but with the introduction of restrictive measures, it was the World Wide Web that became the main method of communication with the outside world. And on the Internet it is easier and more convenient to understand and find out the current moods of the target audience.
The practice of Social Listening (social monitoring) involves tracking brand mentions on the Web.
Wordstream cites UK Netflix research as an example. A well-known movie service conducted social monitoring in order to understand how the target audience has changed in 2020 before and during the lockdown.
According to the social monitoring service that helped Netflix conduct this study, insight into the characteristics of different audience segments is a valuable weapon for developing a marketing strategy that meets the current needs of users.
WordStream warns that reacting quickly to a growing trend or audience problem is usually a good idea, but it can also undermine your brand image. Analysis of results, planning are very important in this matter.
3. Personalize
Personalizing an ad, product, or brand message is best practice and will work in the context of cultural response. For high-quality personalization, it is important to segment your customer base, and, applicable to advertising campaigns, to target the audience that will be interested in your ad.
Personalization is important across all channels, from social media to mobile marketing.
4. Make the work transparent and understandable
Business transparency (transparency) is no longer a buzzword. The culture is changing. Users are getting used to knowing more about the business. And they want to know more. Open communication of brands with consumers can be the key to success in this matter.
5. Offer specific value and usefulness
The world is balancing between two extremes – thrift and consumerism. Moreover, both qualities have exacerbated in a pandemic. On the one hand, people are looking for ways to use the product for as long as possible, and sustainable development is of great importance. On the other hand, during the pandemic, the number of purchases caused by boredom and panic increased. Brands also need to balance. A good way is to focus on the real usefulness of your product.
Cultural changes in the world and society are not only a challenge for brands, but also new opportunities. Customer values, behavior and expectations have changed. And they keep changing. Companies that recognize and adapt to these changes stand a chance of success.
Sources: wordstream.com and advertisingweek360.com